2011-12 Season Newspaper Articles
---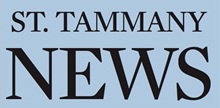 State Champs
SPS wrestlers win 3 titles
By Mike Pervel
St. Tammany News
Published on Wednesday, February 15, 2012 12:09 AM CST
Gold was the color of the day Sunday for three St. Paul's wrestling Wolves, who distinguished themselves over the weekend at the Louisiana High School Athletic Association Wrestling Championships held at the Pontchartrain Center in Kenner.

St. Paul's senior Chris Arms captured the 170-pound individual title, junior Connor Campo took the 126-pound crown and David Englehardt secured the 138-pound category helping the Wolves to a fifth place team finish with 228 points.

| | | |
| --- | --- | --- |
| | | |
| St. Paul's Chris Arms is in control as he eyes the clock late in his 170-pound championship match Sunday with Brother Martin's Kyle Delaune. Arms (61-2 overall) 46-0 in Louisiana won his title with a 10-4 decision over Delaune at the Pontchartrain Center in Kenner. (Staff Photo by Mike Pervel) | St. Paul's Connor Campo controls Catholic of Baton Rouge's Landon Becnel during Sunday's 126-pound championship match. Campo (60-1 overall) 43-0 in state competition earned a 7-2 decision to capture the crown. (Staff Photo by Mike Pervel) | St. Paul's David Englehardt at right prepares to attempt to flip Catholic of Baton Rouge's Michael Bourgoyne in Sunday's 138-pound championship match. Englehardt secured the individual title taking a hard-fought 4-3 decision. (Staff Photo by Mike Pervel) |
Brother Martin's Crusaders (283) won the Division I team crown edging out Catholic of Baton Rouge (279) in the 28-team field. Archbishop Rummel (274) took third followed by Jesuit (234.5). In addition to St. Paul's St. Tammany Parish teams, which competed and scored in the event included Fontainebleau (71) in 15th place, Northshore (59) in 17th position followed by Mandeville (53), while Covington (11) came in 26th place.
Arms (61-2 overall) recorded an unbeaten 46-0 mark against in state opponents. Arms registered his 170-pound individual crown by winning a 10-4 decision over Brother Martin's Kyle Delaune. Arms held a 2-1 lead after the first period and increased it to 5-1 after two periods en route to the title six-point championship victory. Arms summed up his victory: "I went out there and gave it my best. Everybody just said to go out there and wrestle my match and that's what I did. As I saw the seconds count down it was the happiest feeling of my life," Arms said. "I wanted to get that first take down and work from there. I wanted to get ahead and after that everything just flowed. My opponent was a great competitor and he wrestled hard," Arms added.

Campo (60-1 overall), a junior, who finished 43-0 in state, earned his title taking a 7-2 decision over Catholic of Baton Rouge's Landon Becnel. Campo shared his thoughts on taking the 126-pound title. "This is the happiest I think I have ever been. It's a great, great feeling," Campo said. "Right at the beginning, I got the shot, which is what I have been doing all year. I got to his legs and took him down. After that I rode him to keep the lead," Campo added. Campo built an early 2-0 lead and held that after the first period. Campo extended it to 3-0 on an escape before increasing his lead to 7-1 after two periods.

Englehardt (30-5 overall) and 26-3 in Louisiana earned a hard fought 4-3 decision over Catholic's Michael Bourgoyne in the 138-pound category. Englehardt was in control early taking a 2-0 advantage before Bourgoyne earned a point on an escape. Englehardt led 3-2 before his opponent escaped from a hold to tie the match at 3-3, which is how the second period ended. Englehardt talked about the joy of winning his title saying how much it means to be a state champion for his school and family. "It's amazing. It's pretty awesome. I come from a family of wrestlers actually. Two of my older brothers (Mark and Stephen) made it to the state finals twice each and never won. That makes winning so much more special," David Englehardt said.

Englehardt said he remembered growing up as a little kid he would always go to the Pontchartrain Center to watch his brothers wrestle. "Now I had an opportunity to do what they did. There was kind of a curse about it with them not being to win in the finals. Breaking the curse is truly awesome and I know they are proud of me," Englehardt added. "I knew it was going to be a tough match. I lost to him (Bourgoyne) earlier in the season (10-1) and I actually broke my hand against him. I had a game plan and I was able to take him down early. I fought hard to hang on," Englehardt said.

St. Paul's coach Craig Ketelsen credited his three state champions with doing an exceptional job. "Being undefeated in Louisiana is an incredible accomplishment for Arms and Campo. Especially for the coaches, who can game plan for you being familiar competing in tournaments against each other. You face the same guy three or four times in a season it's unheard of to go all those matches and be unbeaten. Englehardt getting the upset win says a lot for his effort as well," Ketelsen said.

Ketelsen said all the blood, sweat and tears was well worth it. "We thought we could make history and catch Jesuit for fourth place, but being in the top five is a great place to be," Ketelsen added.

Other St. Paul's wrestlers, who placed in the top six included:

113: 4. Chris Meraux; 132: 3. Jordan Peterson; 145:5. Dominic Iovenetti; 160: 3. James Cavaliere; 285: 4. Shane Burkholder;
Other St. Tammany Parish wrestlers, who placed in the top six in Division I included:

113: 5. Collin Prosper, MHS; 126: 6. Garrin Pellegrin, MHS; 138: 6. Kodi Wagner, NHS.

In the Division II competition, Tuerlings Catholic (277) won the team title followed by Holy Cross (249) and Live Oak (221.5) in third. Two St. Tammany schools participated in Division II with Pearl River (58) earning a 13th place finish in the 28-team field.

The Rebels were led by Adriean Lemoine with a fifth place finish in the 160-pound category. Lakeshore High (34.5) came in 15th place led by Taylor Morris earning a third place finish at 160-pounds for the Titans.

In the Division III competition, Brusly (251) captured the team title followed by John Curtis (216) with Thomas Jefferson (210) taking third place.