2011-12 Season Newspaper Articles
---

Brusly wins wrestling title
Catholic second, Live Oak third at state meet
By ROBIN FAMBROUGH - Advocate sportswriter, February 13, 2012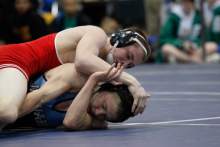 Brusly's Austin Schermer defeats Thomas Jefferson's Roy Ulrich, III in the Div. III 132# finals (Photo by Derick Hingle.)
KENNER — It was a four-prong finish for Baton Rouge teams at the Louisiana High School Athletic Association/State Farm State Wrestling Tournament on Sunday night.
Brusly High claimed the team title in Division III, while Catholic High placed second to Brother Martin-New Orleans by four points in Division I.
Live Oak High posted its best-ever finish, taking third in Division II, with another local team, St. Michael the Archangel, placing fourth.
"These kids have been extremely motivated," Brusly coach Jimmy Bible said. "They looked at the second-place trophy from last year all year and wanted to change the color of it to gold, and they did. But it took a lot of hard work.
"We fought tooth and nail with Curtis and Thomas Jefferson for two days. We had enough in the finals and enough third-place finishers to give us the edge."
The two-day tournament attracted a record crowd of 12,837 to the Pontchartrain Center, including 3,579 fans in attendance for the final session.
Brusly finished with 251 points, ahead of John Curtis-River Ridge (216), Thomas Jefferson-Gretna (210) and Bossier (193). It was the eighth title in nine years and the 11th overall for the Panthers.
Catholic trailed by 30 points going into consolation finals. The Bears got that margin down to 15 points going into the finals, but wound up falling just shy of winning their third Division III title in five years.
Brother Martin finished with 283 points to win Division I, while Catholic was at 279, followed closely by Archbishop Rummel-Metairie (274). Jesuit-New Orleans was next at 234.5.
"It ended up being as close as I thought it would be," Catholic coach Tommy Prochaska said. "We fought so hard. I was hoping we'd have the gap down to single digits going into the final, but we didn't.
"But I couldn't be prouder of the way these guys worked for two days. We battled and battled and gave it everything we had. It was so competitive."
Lafayette's Teurlings Catholic won the Division II title with 277 points, ahead of Holy Cross-New Orleans (249), Live Oak (221.5) and St. Michael (203).
Brusly won seven state titles in a row in Kenner, but wound up placing second a year ago when the tourney moved to Bossier City. The Panthers left no doubt this time, wrapping up the 11th state title in school history midway through the finals.
The Panthers won three of the first five weight classes contested to clinch the title. Baret Sanchez won a 6-0 decision over Basile's Devin Bazinet in the 113-pound weight class to jump start Brusly march toward another title.
Brothers Trevor and Austin Schermer pinned their opponents. Trevor Schermer pinned Parkview Baptist's Casey Spinks at 126 in 2:34, while Austin Schermer pinned Thomas Jefferson's Roy Ullrich III in 2:28 to win the 132 title. Those wins pushed the Panthers' lead to 29 points.
The win made Austin Schermer only the second wrestler in Brusly's school history to win four individual titles. Jacob Haydel pinned Curtis' Spencer Lemoine in 1:35 to win the 285 division to complete the title night for the Panthers.
Catholic's charge toward another state title was a steady battle. Two Bears finished as state runners-up in the lower weight classes. Zack Louis won at 132, edging Rummel's Bubby Yeager 3-2 in two overtime periods.
Brandon Luckett and Kyle Hidalgo also won finals for the Bears. Luckett took a major decision win over Byrd's Andrew Martin, 18-6. Hidalgo pinned East Ascension's Graham Karwath in 1:02.
Cody Hill, who defeated Holy Cross' George Benoit at 120 by a 9-3 decision, became the first state champion for a five-year-old Live Oak program, which capped its best season ever with the third-place finish.
"I proved that it's possible," Hill said after winning. "Hopefully, other guys will use that as motivation and understand they can win a state title.
"This was the fourth time I'd wrestled him (Benoit). I had to focus on finishing my moves and take advantages of the shots I had."
Two St. Michael competitors claimed their third individual titles. The Warriors' Charles Morgan won by 12-6 decision over LOHS' Seth Bosarge at 132, while Stephen Scardina outlasted Taj Smith of Holy Cross in the evening's final bout, winning 3-1.
Brothers Hunter and BrandonArnett also claimed Division III titles for Redemptorist, which placed seventh in the team standings with 101 points.
Hunter Arnett won at 170, ousting Bossier's Jalen Oliver, 10-3. Brandon Arnett posted a major decision win over Calvary Baptist's Tyler Sullivan, winning 8-0 at 195.
Teurlings had four individual champions — Trey Bonin (106), Phillip Miller (145), Jean-Luc Gilbeaux (170) and Nick Schneider (182).